Bao Burger 包漢堡
Traditional Gua Bao, known as a Taiwanese Taco, is perhaps the pride and signature dish of Taiwan. It can be found in both street food and at fine dining. Many innovative versions of this traditional delicious dish have expanded its popularity throughout the globe.
My modern creation on this traditional Gua Bao, is a true fusion between a Western hamburger and Eastern Gua Bao. I call it Bao Burger. The braised pork belly recipe is available on Street to Kitchen Asia's website.
- Yu Tsai
---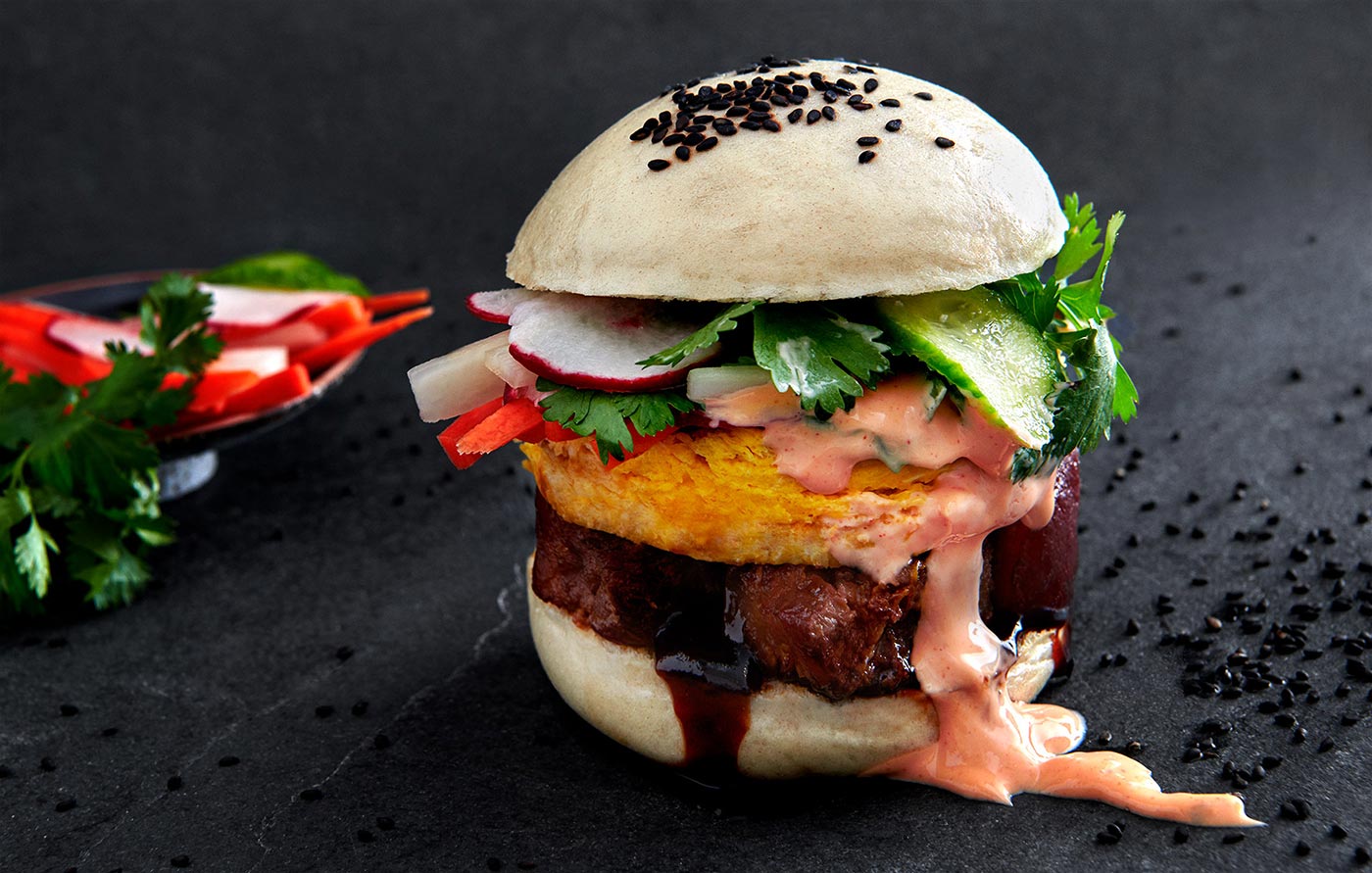 Ingredients
---
Ingredients for Bao Burger:

1 1/2 lbs (680g) Braised Pork Belly
8 eggs (1 per burger)
8 Bao buns (Detailed instructions, below)

Garnish:

1/2 tablespoon hoisin sauce - to taste
picked radish to taste
pickled cucumber to taste
green onions chopped to taste
coriander
spicy mayo

Ingredients for Bao Bun Part 1:

3 tbsp active dry yeast
3/4 cup all-purpose flour
3/4 cup warm water

Ingredients for Bao Bun Part 2:

1 1/2 cup water
4 1/2 cup all-purpose flour
3/4 tsp salt
6 tbsp sugar
3 tbsp vegetable oil
1 1/2 tsp baking powder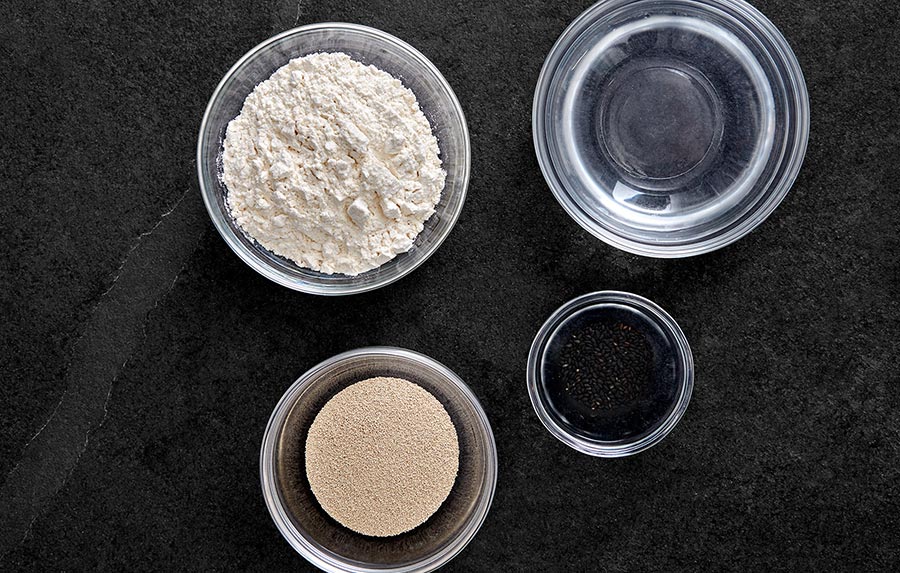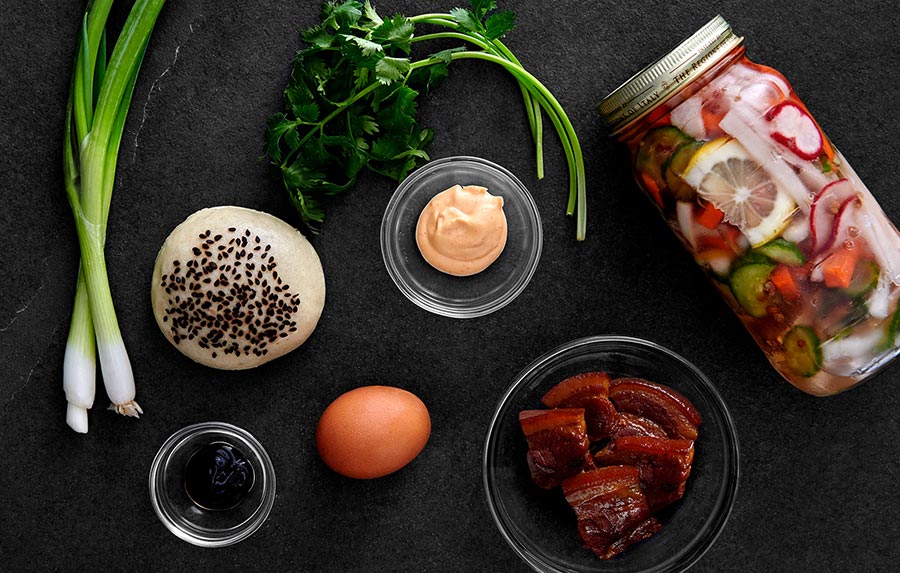 Instructions
---
Instructions for Bao Bun Dough:
First mix ingredients from Bao Bun Part 1 in a large bowl. Mix yeast, flour, and warm water and set aside for 30 minutes to activate the yeast.
After setting for 30 minutes, mix in ingredients from Bao Bun Part 2: water, flour, salt, sugar, and vegetable oil. Folding them from outside in and kneed the dough until smooth and elastic.
Note: baking powder and sesame seeds will be used in part 4 and 5.
Transfer into a greased bowl, cover it and set it aside for 2 1/2 to 3 hours. It will triple in size.
Remove the risen dough from the bowl and roll flat, sprinkling with the baking powder, evenly and knead for 7 minutes.
Divide up the dough to 2 ½ ounce (66g) pieces to make a 3 inch bun or 3 ounce pieces (88g) to make a 4 inch bun. Shape each dough ball and push down to create a burger bun look.
Dip each of the dough top surface with sesame seeds. Brush a little water on the surface if needs to help the sesame seeds to stick.
Place each of the dough balls on a parchment paper and let them rest, covered, for about 30 minutes.
Instructions for Steaming Bao Buns:
Bring water to Boil.
Place buns in the steamer 2 inches apart from each other. They will expand while steaming.
Cover and steam for 15 to 20 minutes. Remove the lid before turning off the heat so it doesn't cause water to drip on the buns.
Remove the buns and allow them to cool. Cut them in half to create the bao burger bun.
Toast the buns in a flat pan with a little butter.
Whisk eggs and fry in a pan, making omelets about 4 inches across to fit into our buns.
Spread hoisin sauce on the bottom section of toasted bun and place pieces of pork belly onto bun.
Lay the egg omelet on top of pork belly.
Build your Bao Burger with pickles, diced spring onion, and fresh coriander. Add spicy mayo if you want to give it heat.
Cap with the top portion of the bun. – You are ready to serve and enjoy.