Fried Sweet Potato Balls 炸地瓜球
This is a delicious snack that I grew up with – it's really easy to make. My godson loves it and we have a lot of fun making it together. You can make this snack even more decadent by dusting with powdered sugar or savory by seasoning with sea salt.
- Yu Tsai
---
Ingredients
---
1/2 lb Sweet Potatoes
1/2 cup Tapioca
2 tablespoons of sugar
1 – 2 tablespoons of water – as needed
1/2 tablespoon of powdered sugar, to taste
1/2 tablespoon of Sea Salt – optional, to taste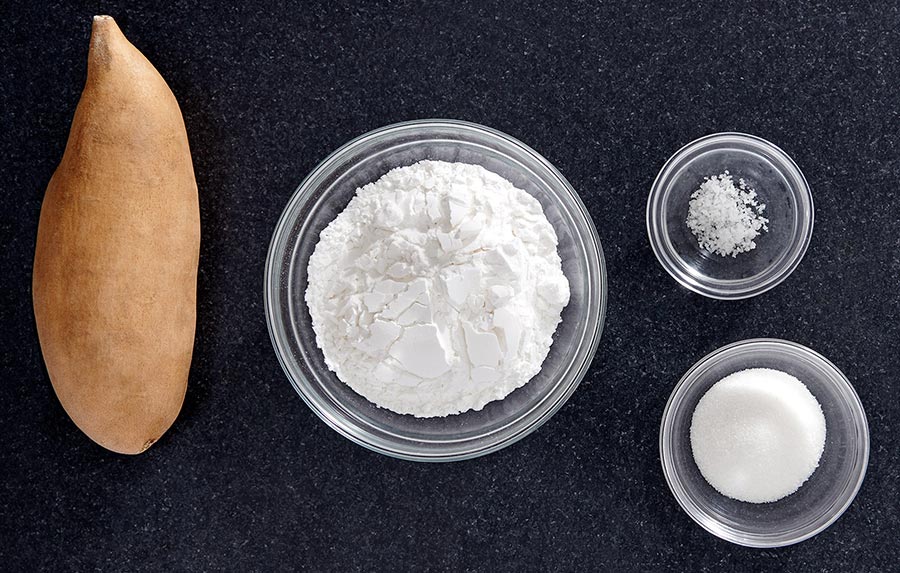 Instructions
---
Wash, peel and chop sweet potato into small even pieces so they will steam evenly.
Steam sweet potato for 20min or until soft. If you can press a chopstick through a piece of potato, it is ready.
Transfer to a bowl and mash sweet potatoes well. Add in sugar while they are still hot so that the heat will melt the sugar.
Add the tapioca powder and continue mixing.
Depending on the consistency of the sweet potato dough, you may need to add one to two tbsp of water.
Divide the dough and roll the dough into small balls.
Heat the oil until 300 degrees Fahrenheit and fry sweet potato balls in batches of 6-8 under medium low fire for 10 min.
Fry until golden brown and fully cooked inside, they will continue to brown a bit after you remove from the oil.
Set the fried balls on a paper towel or drying rack to remove some of the excess oil.
Season with powdered sugar or crushed sea salt.