Stir Fried Long Beans 乾煸長豆角
A delicious dish doesn't have be difficult to make. This simple dish gives so much depth in flavor. If you can't find long beans in your area, green beans are a perfect substitute. This Sichuan style recipe was one of my favorite dishes as a child. My mother used to pack this dish over rice in my lunch box. The sauce would soak into the rice creating a perfect meal that was envied by many of my classmates.
- Yu Tsai
---
Ingredients
---
1 lb (450g) long beans cut into 3 inch long pieces
1/4 (60ml) cup of water

Sauce:

2 tablespoons peanut oil
2 scallion stalks finely chopped
3 garlic cloves finely chopped
2 shallot cloves chopped
6 to 8 Sichuan peppercorns

Stir Fry:

2 1/2 tablespoons chili garlic paste (Dou Ban Jiang)
2 tablespoons oyster sauce (or mushroom sauce for vegetarian version)
1/2 teaspoon brown sugar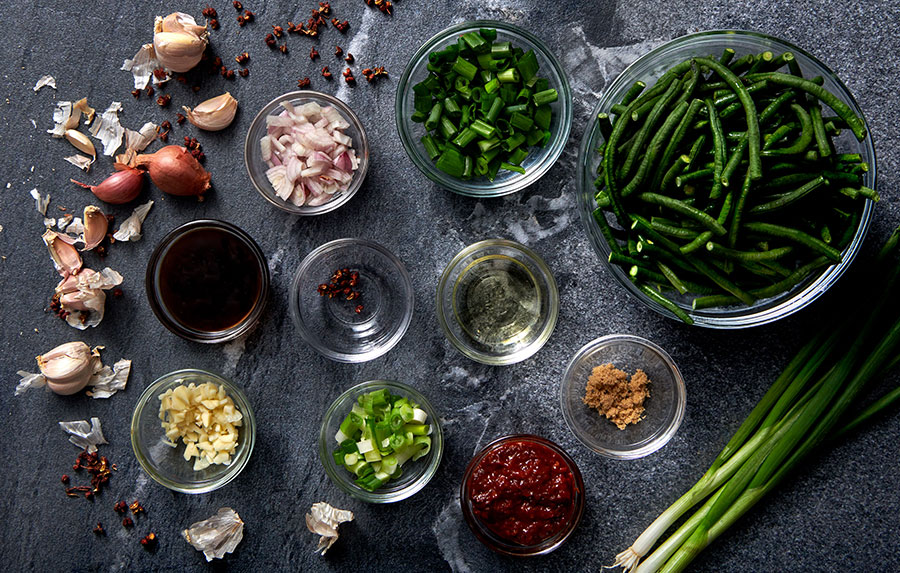 Instructions
---
Mix sauce ingredients in a bowl. Set aside.
Heat oil in wok. Stir fry garlic, scallions, peppercorns and shallots. Be careful not to burn them.
Add sauce mixture into the wok and stir until sugar dissolves.
Add long beans.
Add water and close the wok lid allowing it to steam for 5 to 6 minutes. Shorten the time for al dente long beans.
Stir occasionally.
When the water reduces and sauce thickens, they are ready to be served.